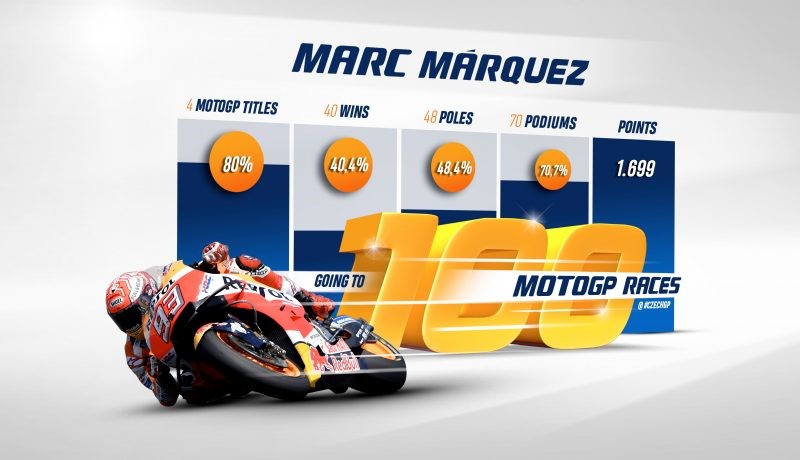 MotoGP 2018   Round 10

Repsol Honda Team heads to Brno with Marc Marquez reaching the 100 MotoGP race milestone

Following two back-to-back wins and a two-week break, Marc Marquez now has the Czech GP on his radar, an event where he will hit the special milestone of 100 MotoGP races.

The landmark is a good occasion for a quick look at the amazing achievements the 25-year-old has tallied so far in his still relatively short Premier Class career. In the five seasons and 99 MotoGP races since his debut in the class at the 2013 Qatar GP, Marc has so far earned:

·         40 wins

·         70 podiums

·         48 pole positions

·         42 fastest laps

·         4 World Titles (the youngest-ever rider to win four premier-class World Championships)

The Championship leader looks forward to updating some of those statistics next Sunday, at a track where he won last year and where he attended a one-day private test in early July alongside teammate Dani Pedrosa, who has also been very successful at the Czech circuit through his career.

The Repsol Honda pair have achieved two 1-2 finishes at the Czech GP, in 2013 and 2017. Marc holds the Pole record of 1'54.596" (2016), Dani the Circuit record at 1'56.027" (2014).

At the Grand Prix České Republiky

Marc Marquez has 3 wins: 1 x Moto2 (2012) and 2 x MotoGP (2013, 2017), plus an additional 3 podiums and 4 pole positions.

Dani Pedrosa has 4 wins: 1 x 125 (2003), 1 x 250 (2005), and 2 x MotoGP (2012, 2014), plus an additional 7 podiums and 2 pole positions.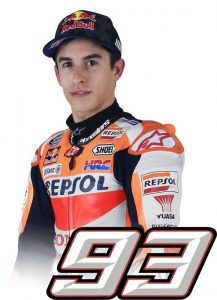 Marc Marquez  93   
"We had a good test at Brno and we're coming off of wins at two very different races, one an all-out battle and one more tactical, so we arrive in Brno in a confident mood. It was also good to enjoy a few days of vacation to recharge the batteries and prepare for the second half of the season, which will still be very long with 10 races to go, and not easy at all. Our rivals are riding fast at every circuit and in every situation, so we must understand and plan the best strategy each time. We're working very well with the team and the HRC engineers, and we must continue that trend. I'll go to Brno not thinking about the advantage in the Championship, as if we were all still at the beginning, on zero points. The target for Sunday is to try and win, but if the situation won't allow it, we'll manage to get the best result possible."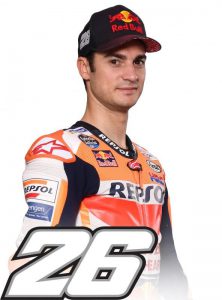 Dani Pedrosa  26

"We've had a few days off, not a real summer break but good nevertheless. Now we go to Brno, which is one of my favourite tracks on the calendar, so we hope to be a little faster there. In order to do that, we must improve the feeling and setup of the bike, because so far we've been facing some problems everywhere. We mainly need to improve in cornering, because at the moment I can't turn the bike fast enough, especially mid-corner and out of the corners."
Rider Standings

| | | | | | | |
| --- | --- | --- | --- | --- | --- | --- |
| Pos. | Rider | Num | Nation | Points | Team | Constructor |
| 1 | Marquez Marc | 93 | SPA | 165 | Repsol Honda Team | Honda |
| 2 | Rossi Valentino | 46 | ITA | 119 | Movistar Yamaha MotoGP | Yamaha |
| 3 | Vinales Maverick | 25 | SPA | 109 | Movistar Yamaha MotoGP | Yamaha |
| 4 | Dovizioso Andrea | 4 | ITA | 88 | Ducati Team | Ducati |
| 5 | Zarco Johann | 5 | FRA | 88 | Monster Yamaha Tech 3 | Yamaha |
| 6 | Lorenzo Jorge | 99 | SPA | 85 | Ducati Team | Ducati |
| 7 | Petrucci Danilo | 9 | ITA | 84 | Alma Pramac Racing | Ducati |
| 8 | Crutchlow Cal | 35 | GBR | 79 | LCR Honda | Honda |
| 9 | Iannone Andrea | 29 | ITA | 75 | Team Suzuki Ecstar | Suzuki |
| 10 | Miller Jack | 43 | AUS | 57 | Alma Pramac Racing | Ducati |
| 11 | Rins Alex | 42 | SPA | 53 | Team Suzuki Ecstar | Suzuki |
| 12 | Pedrosa Dani | 26 | SPA | 49 | Repsol Honda Team | Honda |
| 13 | Bautista Alvaro | 19 | SPA | 44 | Angel Nieto Team | Ducati |
| 14 | Espargaro Pol | 44 | SPA | 32 | Red Bull KTM Factory Racing | KTM |
| 15 | Rabat Tito | 53 | SPA | 30 | Reale Avintia Racing | Ducati |
| 16 | Syahrin Hafizh | 55 | MAL | 22 | Monster Yamaha Tech 3 | Yamaha |
| 17 | Morbidelli Franco | 21 | ITA | 19 | EG 0,0 Marc VDS | Honda |
| 18 | Espargaro Aleix | 41 | SPA | 16 | Aprilia Racing Team Gresini | Aprilia |
| 19 | Smith Bradley | 38 | GBR | 13 | Red Bull KTM Factory Racing | KTM |
| 20 | Redding Scott | 45 | GBR | 12 | Aprilia Racing Team Gresini | Aprilia |
| 21 | Nakagami Takaaki | 30 | JPN | 10 | LCR Honda | Honda |
| 22 | Kallio Mika | 36 | FIN | 6 | Red Bull KTM Factory Racing | KTM |
| 23 | Abraham Karel | 17 | CZE | 4 | Angel Nieto Team | Ducati |
Team Standings

| | | |
| --- | --- | --- |
| Pos. | Team | Points |
| 1 | Movistar Yamaha MotoGP | 228 |
| 2 | Repsol Honda Team | 214 |
| 3 | Ducati Team | 173 |
| 4 | Alma Pramac Racing | 141 |
| 5 | Team Suzuki Ecstar | 128 |
| 6 | Monster Yamaha Tech 3 | 110 |
| 7 | LCR Honda | 89 |
| 8 | Angel Nieto Team | 48 |
| 9 | Red Bull KTM Factory Racing | 45 |
| 10 | Reale Avintia Racing | 30 |
| 11 | Aprilia Racing Team Gresini | 28 |
| 12 | EG 0,0 Marc VDS | 19 |

Constructor Standings

| | | |
| --- | --- | --- |
| Pos. | Team | Points |
| 1 | Honda | 200 |
| 2 | Yamaha | 160 |
| 3 | Ducati | 158 |
| 4 | Suzuki | 104 |
| 5 | KTM | 39 |
| 6 | Aprilia | 26 |