Marc Marquez took an incredible victory at Twin Ring Motegi today, becoming the 2018 MotoGP World Champion with three races to go, in front of Honda President and CEO Mr Takahiro Hachigo, who joined him on the podium.
After starting from the sixth spot on the grid, Marc was immediately able to recover four positions, taking over second place and engaging in race-long battle with title contender Andrea Dovizioso and fellow Honda rider Cal Crutchlow. With two laps remaining, the Italian rider crashed out of the race, just after Marc had passed him in preparation for a last-lap duel.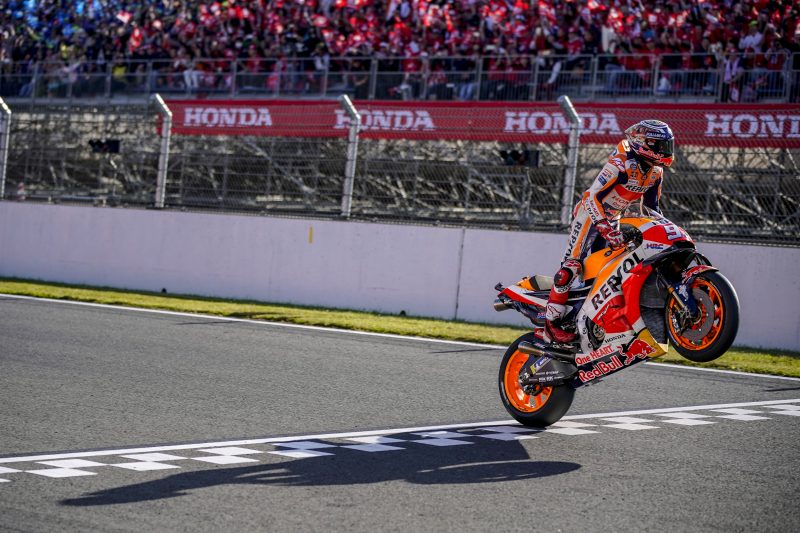 photo credit : hondaracingcorporation
With his eighth win of 2018 and the 69th in his career (across all classes), Marquez becomes the youngest rider of all time to reach the milestone of seven World Championships (125cc in 2010, Moto2 in 2012 and MotoGP in 2013, 2014, 2016, 2017 and 2018); he does this at the age of 25 years and 246 days, taking the record from Mike Hailwood, who was 26 years and 140 days old when he won his seventh title, the 1966 350cc crown.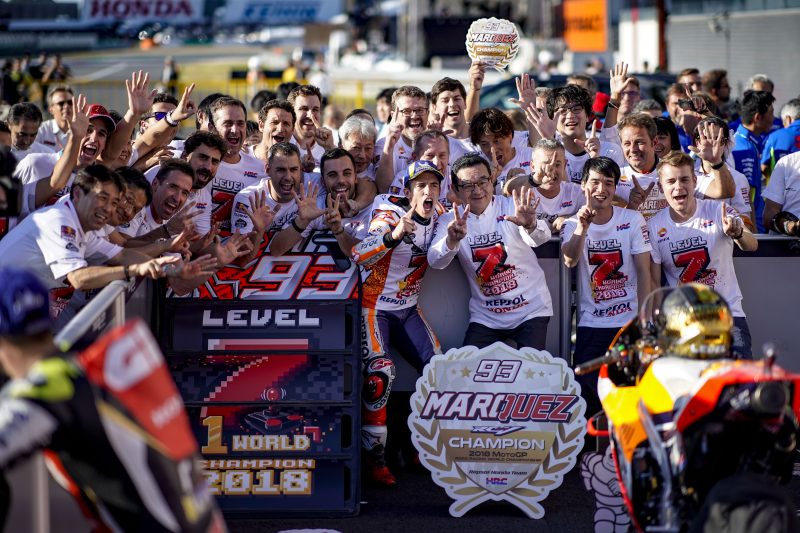 photo credit : hondaracingcorporation
Dani Pedrosa started from 11th on the grid and recovered up to eighth place at the end of the first lap, but he struggled to maintain a good pace and was not able to improve further than that.
Marc's victory today also extended Honda's lead in the Constructors World Championship to 47 points, and the Repsol Honda Team's lead in the Team Classification to 51.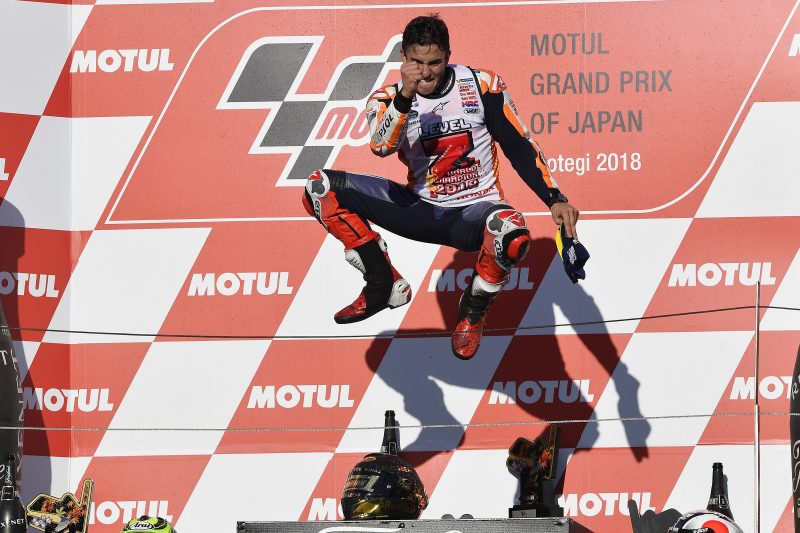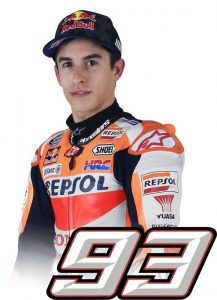 Marc Marquez
Winner
2018 MotoGP World Champion
"I feel really, really good. I would say it's a dream came true, or better, that I'm living a dream. It's something so special, here together with my team, all the Honda and HRC people, my family and my staff. It has been a great season, and ever since Aragon I've been tasting, imagining this title, because it was very close. Then I realized that this wasn't my style, and I needed extra motivation, so I set the goal of trying to achieve it with my first match ball—in Motegi, by winning the race. This circuit was a challenging one to manage that, but it seems like when I'm under pressure, I feel better on the bike! Today the race was as I expected. I was prepared to make a good start and immediately make some passes. I got to second place at the end of the first lap, and then was able to follow Andrea and stay with him. I thought I could try and attack before the last lap because I felt I had something extra to give. He was pushing very hard and made a mistake, and that's a shame because he deserved to be here on the podium. That's also something that I think Dani would deserve at least once this season. Anyway, when I crossed the finish line it was an explosion of joy. My people prepared this Level7 celebration, but I didn't know anything ahead of time. I never want to know, but I think it's because I used to play that kind of game a lot. Now it's time to celebrate this seventh title and enjoy these final three races."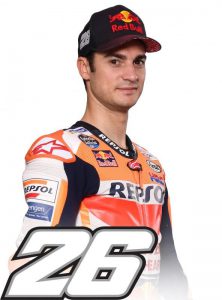 Dani Pedrosa
"Today's result was a very disappointing one as we had a real chance to fight for the podium. I lost the front when I was pushing hard and getting closer to the front. I hit a bump and couldn't save it. The crucial moment was the start, as first I had an issue with the clutch and soon after that, Miller took the inside into the corner too fast and pushed us both wide so that we lost ground. As we had all been forced to use the hard rear, I struggled to warm the tyres up over the first three laps, and I didn't have good grip. It took a while to get into a fast rhythm. The positive thing is that we had a strong race after that, catching the front group. We had a good chance but we didn't make it. Hopefully the next race will be better."